Konjaku Kioi Toyama Ryu Dojo

Mike Femal - Head Instructor (dojo cho)

School of Japanese Swordsmanship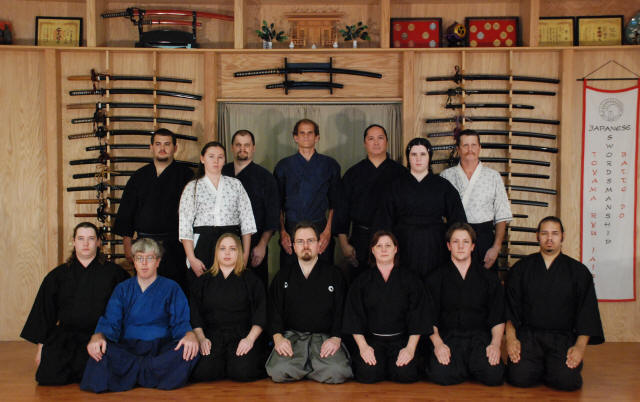 Do you like anime, samurai movies, or swords? This is your chance to learn the real thing. Classes are the same as those taught in the Seizankai Dojo in Machida, Japan. This is your chance to get hands-on training in authentic Japanese Swordsmanship. To most people the Samurai are a footnote in history or larger than life figures in cinema and anime. The Samurai are gone, but their spirit lives on. Men and women from Japan and around the world are dedicated to keeping their legacy alive. Perhaps you are one of those unique souls who are captured by the spirit of the sword and wish to join us down this path.
Toyama Ryu is like many things in life - you get out of it what you put into it. For most it is a brief exposure to swordsmanship that satisfies their curiosity and for some it becomes a life long pursuit. Students who have no fire in their eyes and need immediate reward to keep them motivated will soon be off pursuing the next thing that catches their interest. Some students will remain to carry on the tradition. Will you be one of them?
Toyama Ryu is based on the practical application of the sword as a weapon. It consists of basic cutting techniques, basic kata, advanced two man kata and a variety of specific cutting patterns. It is not an extension of other martial arts training but a unique art brought to this area by Hataya Mitsuo Sensei of Machida, Japan. It keeps many aspects of more traditional Japanese schools and adds emphasis on combat effectiveness.
Femal Sensei has been teaching Toyama Ryu in St. Petersburg, Florida since 2001. He has won 12 gold medals in competitions in both the United States and Japan and was the overall champion in the 2001 and 2003 Orlando Batto Jutsu Tai Kai.
Mike Femal was one of the founding members of the US Federation of Batto Do. He was awarded the rank of Yondan (4th degree black belt), and became a certified instructor for that organization. He served as the first Membership Director and later as the first Shinpan Bucho (Director of Judges) in that organization. He passed the Zen Nihon Batto Do Renmei Shinpan certification test and formalized the initial Taikai judging criteria for the US Federation of Batto Do.
Femal Sensei is now dedicated to the study of Japanese swordsmanship as the dojo-cho of the independent Konjaku Kioi Toyama Ryu Dojo. He is focused on the continued improvement of himself and his students. Classes cover every aspect of Japanese swordsmanship. You will learn the framework of the art through kata, kumitachi, and tameshigiri cutting forms of Toyama Ryu. Instruction also includes everything from how to put on the uniform (hakama, keiko gi, and obi) to sword maintenance. This is a unique opportunity to learn authentic Japanese Swordsmanship.
There is a strange mix of peaceful moving meditation and efficient bloody harsh reality in Toyama Ryu. Japanese Swordsmanship is an art of life and death. Its origins are seeped in 300 years of bloody Japanese battlefields in an era of constant war. It was refined in the 300 years of rigid social hierarchy that followed. We are looking for new students to help carry on the art and tradition of Toyama Ryu.